»
»
Destination Hope Men's Program
Destination Hope Men's Program
Fort Lauderdale, Florida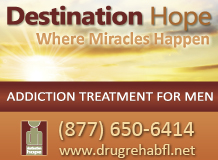 6555 Powerline Road
Suite 214
Fort Lauderdale, Florida 33309

Phone: 877-650-6414



Destination Hope, 877-650-6414, is a Florida Drug Rehab that provides drug and alcohol treatment to adult men. Our drug and alcohol rehab facility offers residential, day treatment, and outpatient drug rehab. In addition, we provide dual diagnosis treatment for those suffering from a mental health issue and we offer an unmatched family program that heals families and saves lives.

Located in beautiful Fort Lauderdale, Florida, our unique drug and alcohol rehab program has helped hundreds of people from all over the country recover from the grips of addiction. Our program size is small which allows our experienced clinical team to give the clients the individualized attention they need for long-term recovery.

Call our 24-hour helpline today and let us help you rebuild your life, 877-650-6414.
Services Offered
Meetings in Florida