Detox Boca
Boca Raton, Florida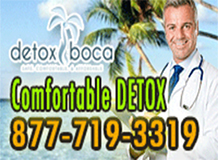 7000 North Federal Hwy
Boca Raton, Florida 33487

Phone: 1 (877) 957-5113



For over 25 years, our combined experiences have been helping men and women break the bonds of addiction, regain their health and renew their lives. We take pride in providing a range of treatment programs including: outpatient (OP), intensive outpatient (IOP) and partial hospitalization programs (PHP) that are comprehensive. Located in beautiful Boca Raton and Delray Beach, FL our facilities are safe, secure, and serene. Just by stepping outside, the climate and the natural environment provide clients with healing qualities that positively impact the recovery process.

Services Offered
Meetings in Florida