»
»
PRIDE Institute of Florida
PRIDE Institute of Florida
Fort Lauderdale, FL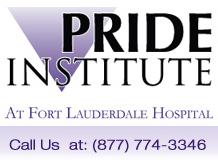 1601 E. Las Olas Blvd.
Fort Lauderdale, FL 33301

Phone: 877-774-3346



The Pride Institute of Florida at Fort Lauderdale Hospital was founded in 1986. With over 10,000 graduates, Pride Institute of Florida is the nation's first and leading provider of in-patient and out-patient programs devoted exclusively to treating the mental health and chemical dependency needs of the lesbian, gay, bisexual and transgender (LGBT) community.
Services Offered
Similar Treatment Centers
Meetings in FL